Los Angeles fashion show at Galleries Lafayette, Paris
Joseph was in Paris last week to perform at the annual Los Angeles fashion show at Galleries Lafayette. Here is an article about the show with a brief mention of Joseph. (The image is from the event's catalog.)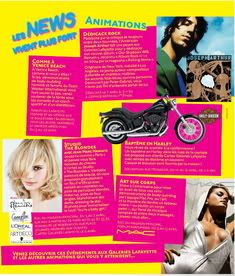 Fashion Wire Daily
While thousands of marchers rioted in Paris, others flocked to the city's biggest department store to celebrate L.A. fashion and the gaudiest symbols of America.
In the same week that France rejected more pro-capitalist labor laws, Galleries Lafayette created a pro-American parade on Boulevard Haussmann, named after the architect who once built huge avenues to allow the military to control the Paris mob.
In the 9th arrondissement, under a billboard showing Naomi Campbell as the meat pattie in a silk cushion hamburger, a marching band, baton twirlers, motorcycle gangs and even Grid-Iron players made up an all-American parade. Cheerleaders, break-dancers and carloads of hip hop boys and girls drew masses of potential consumers at its 8:30pm slot - when most Parisians are heading home.
Across in the 7th arrondissement, "casseurs" or wreckers overturned cars and fought battles with riot police.
The in-store promotion was also efficiently tailored for mass consumption. Paying homage not only to L.A but all that America is famous for, a 60 years of Fender exhibition opened the same evening inside the store featuring hand decorated guitars from a range of eras and rock 'n roll stars.
Launch party folks sipped Moet and Chandon Champagne and were entertained under the gorgeous leadlight dome by Ohio singer songwriter
Joseph Arthur
.
However, just like in the protest, confusion reigned in the store.
Arthur
was initially denied access to the supersized party by a half dozen, shoving security heavies, in a free-for-all at the main entrance.
Upstairs, the entire motorcycle club from the street parade mixed with L.A. fashion fans, who milled about the exotic colored American Apparel display ogling the flexing muscles of bikini-clad body builders.
Staying true to the theme of Venice Beach and Hollywood studios, young baseball capped models dressed by Guess? Body painters in candy colored wigs animated the women's wear floor - reminding guests of
Julia Roberts' opening scene in "Pretty Woman" and the showy babes of "Baywatch."
Tori Praver - the green-eyed flaxen-haired beauty replacing
Paris Hilton as the face of Guess? - was the biggest highlight at this launch.
Sadly, there was precious little sign of L.A. fashion, save for American Apparel's range of ethical cotton-wear, but the smoke and mirrors that Hollywood studios are famous for were enough to distract most guests in this complete fashion void.
(from
Fashion Wire Daily
)